FinancesUpdated Mar 29, 2023
Top 5 Investment Apps for Beginners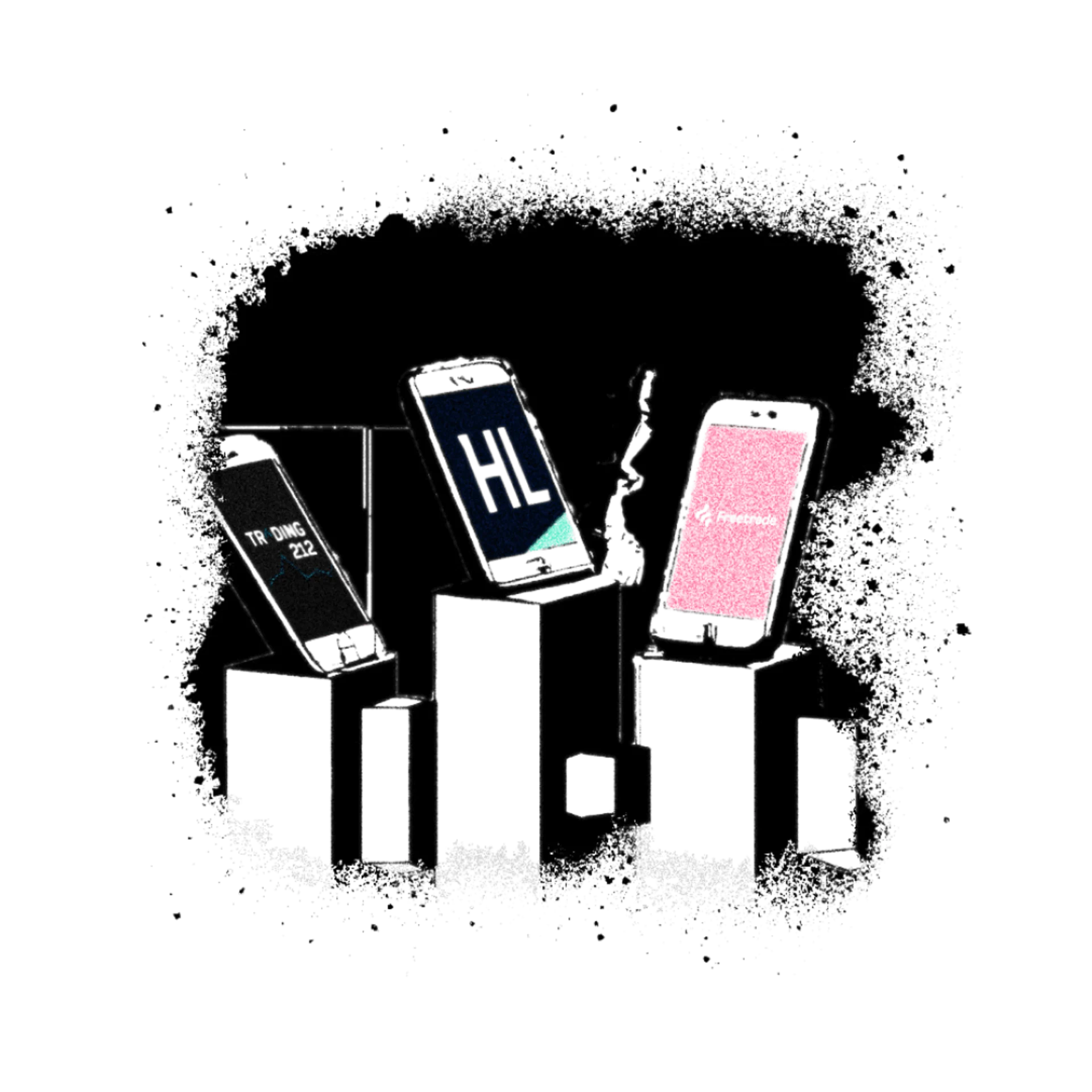 Investing in the UK stock market today is as easy as opening a trading app on your phone and selecting a company to buy shares in. But with so many trading apps out there it can be difficult to know which one to choose. To help you decide, we have gone through all the trading apps and have selected the best investment apps in the UK.
What is an investment app?
An investment app enables you to buy and sell shares and other investments using your mobile device. They are useful because you can do it anywhere at any time, and some provide a number of services like real-time tracking of your portfolio and share prices that, in most cases, could only previously be obtained with the assistance of stockbrokers, fund managers or financial consultants (for us Gen Z, we don't want to deal with all that).
The best investment trading apps will offer you a good selection of investments to choose from, low fees, and a user-friendly interface.
How do investment apps work?
Once you open an investment app, you will link it to a bank account and deposit funds into it, typically as a lump sum or a monthly subscription (or both). This money will then be used to buy shares and other investments such as bonds, ETFs, and mutual funds, depending on the app in question. Some apps will also offer you the ability to start a savings account that invests your money regularly.
Once an investment has been made, the app will provide you with up-to-date performance and valuation data, as well as the ability to track your investment portfolio and make adjustments.
Why use share trading apps?
Investment apps are perfect for beginners because:
You can buy and sell stocks on the stock market at the press of a button.
You can start your investment portfolio right away.
You can check in on your investments at any time, day or night, from anywhere.
They are less expensive than other ways to invest, like hiring a financial advisor.
You can find reliable information about a company and stock alongside investment advice without needing to search Google.
Why is my choice of investment app important?
Each particular investing app is different. It's important to research, read user reviews, and compare investing apps to choose the right one because although they may offer wonderful stuff to persuade you to download and join up, like any other product, there are good and bad investing apps.
Are investment apps safe?
Yes! Investment apps are safe as long as you only invest with an app that is regulated by the financial conduct authority in the UK (or FINRA in the US). You should also make sure you read all of their terms and conditions before signing up.
What should I look out for in an investment app?
The best investment apps in the UK will have some important things in common. Be sure to look out for:
What am I allowed to invest in? Some app providers promote a restricted variety of stocks and shares whilst others give you absolute freedom on what you can invest in. It will depend on your investment strategy, but this may be important if you want to invest in a variety of stocks or just want to invest in certain assets, such as exchange-traded funds and environmentally-friendly equities.
Is it automated? Some apps use robo-advisors, some are DIY, and some are a combo of both.
What trading fees are there? Set-up, trading, transaction, exit, and a monthly or annual platform fee are examples of commissions, fees, and charges. You can look out for commission-free investment apps, but in all honesty, the fees will be tiny anyway.
Is there a required minimum deposit or investment?
Is my money protected by Financial Services Compensation Scheme (FSCS)? This means that if the app fails, you will be paid back up to £85,000 in compensation as determined by the UK's financial conduct authority.
Is there a platform fee for cash withdrawals?
So with these questions in mind, which are the best apps?
Top 5 best investment apps in the UK
Hargreaves Lansdown
Hargreaves Lansdown is one of the biggest and most trusted investment platforms amongst experienced investors in the UK.
Its major selling point is that it is so easy to use without being overly simple. Its stocks and shares ISA gives investors free rein on a huge number of stocks whilst providing a fantastic selection of funds meaning, it is possibly the best investment app for beginners too.
It's easy. When you open an investment account in Hargreaves Lansdown you've got a list of all of your investments created and how much money you have made right at your fingertips. If you open up a share or fund, it is effortless to check how well it is doing and read up on what experts think about its future prospects.
Hargreaves Lansdown also offers a tonne of help and guidance.
For example, the app has a portfolio tracker, which shows you how your stocks and shares are performing, and educational articles to help you understand your investment options. If you need information about a company or fund, its app also has a lot of easy-to-understand research from in-the-know financial advisers and analysts. You will get information on fund management, stock holdings, and previous performance so that you can make your investments with maximum confidence.
Even if that's not enough, Hargreaves Lansdown offers a list of 50 ready-made investment options called the "Wealth 50". These incredibly popular portfolios are composed of some of the world's best companies across the world's biggest stock exchanges, making investing far easier, less worrisome and less time-consuming.
When you do buy or sell funds, it's completely free. However, if you trade shares, investment trusts, or corporate bonds, it costs you £11.95. There is also an annual management fee of 0.45% of the total value of your shares and funds which, for a portfolio of £20,000 could cost at least £90 per year.
At this stage though, you don't have to worry about trading costs — they only really get important when you are making large trades and in your first year especially the fees will be minimal.
So together, Hargreaves Lansdown is one of the best investment apps in the UK for beginners!
Summary
Extremely well-trusted.
Super easy to use. You won't be stuck about what to do.
Packed with research about different funds.
"Wealth 50" makes it easy to create a fantastic investment portfolio.
Higher platform fee than usual.
Well respected as one of the best investment apps.
Links
App Store — 4.7 stars, 100K+ ratings
Play Store — 4.4 stars, 11K+ ratings, 500K+ downloads
Dodl
If you haven't guessed from the name, Dodl is designed to be an incredibly easy trading app.
The funny thing is that it was actually intended as an investment account for children so they can learn about saving and investing in the stock market, but that shouldn't put you off if you are new to stocks and shares because it has been streamlined so that it does not overwhelm you with jargon, numbers and stats — making it possibly the best investment app for absolute beginners.
All you need to do is set up a general investment account with a stocks and shares ISA and add money. The money can then be used to buy shares, funds, and company bonds from a slimmed-down selection of over 80 UK investment options so that deciding what to invest in is easier.
Dodl even offers themes, including specific sectors and geographic regions, so you can build a fund portfolio that reflects your values. For example, there is a "greener world" fund for those interested in ethical investing and who want to be more socially responsible about what companies they are funding.
What makes Dodl even better is that if you are anxious about what to invest in specifically or how much to invest, each fund also comes with its own risk level to guide you. On a scale of 1 to 5, it will tell you how likely you are to lose money.
If you want to go further, you can also spread out the risk and make a habit of investing by setting up monthly investments.
The trade-off for this simplicity is that you have less freedom about your investment options. But for a first-timer, the complicated stuff might just be unnecessary anyway. And at a 0.15% annual charge (min £1 per month), the platform fee is about half of most investment platforms, making it possibly the best investment app for beginners.
So if you're an absolute novice with no idea what it's all about, this might be the trading app for you.
Summary
Streamlined, not to overwhelm you with jargon.
Over 80 UK shares and funds to choose from.
Small platform fee.
Themes for ethical investing.
Risk levels so you can be socially responsible and take the right level of risk.
Set up monthly investments to spread the risk.
Good for absolute beginners with low fees or commission-free trades.
Links
App Store — 3.9 stars, 38 ratings
Play Store — 4.2 stars, 71 ratings, 10K+ downloads
Freetrade
Freetrade is one of the newest and best investment apps in the UK and has caused something of a stir in the personal finance world because you can invest from as little as £2.00 and it is completely commission-free.
That's right. With something called "fractional shares", you can buy a partial share of a company for just £2.00 or higher. And unlike Hargreaves Lansdown, for example, there is no charge for buying shares so when you invest £2.00, you are investing £2.00 only — no annual management fee and no hidden charges, meaning unlimited commission-free trades.
This makes investing far friendlier than most investment platforms which have a minimum investment of £100.
The downside is that Freetrade does not have any funds (what is a fund?), meaning you have to buy shares in companies only.
There are around 1500 UK and US stocks you can choose from and if you want to access an additional 4000, including smaller company shares, you can sign up for Freetrade Plus, which costs £9.99 per month. This adds up to a hefty platform fee.
This is entirely optional though and the top stocks are included in your general investment account.
What's more, if you use a referral link from a friend to open a trading account on Freetrade, you can benefit from a free share worth up to £15 when you deposit just £50 (https://freetrade.io/free-share).
So if you are anxious about investing big sums, want to put up a much smaller amount, and want a free share, Freetrade is the trading app for you.
Summary
You can buy a partial share of a company for just £2.00 or more.
Commission-free trading. Absolutely no fees when you buy or sell shares.
User-friendly interface. The app is very well-designed and easy to use for first-time investors.
Generous referral scheme. You can earn a free share for every person you refer to Freetrade.
Optional premium subscription for access to more shares.
Links
App Store — 4.3 stars, 12K+ ratings
Play Store — 4.4 stars, 17K+ ratings, 500K+ downloads
Trading 212
Trading 212's incredible friendliness makes it one of the UK's best investment platforms.
Its standout feature for beginners is its "Pies and Autoinvest" aspect, which automatically invests for you depending on your goals and values so that you can invest without the hassle.
All you need to do is open a trading account, specify your financial goals and budget, and then select a few starter stocks to make up the slices of your pie.
If you are struggling with what stocks to buy, you can browse 212's Pie Library. It is filled with loads of different pie "recipes" comprising different goals and risk tolerances.
When you find a pie that fits your investment goals, you can just copy it to your portfolio; from then on, it's plain sailing.
AutoInvest helps you create automatic investments that satisfy your pie's financial goals and risk tolerances. You can set how much you want to invest and when, and the app will do the rest for you — it will automatically buy and sell stocks to keep your portfolio in balance.
And because Pies invest across lots of different companies, they are a great way to spread the risk and create a diversified portfolio.
When it comes to choosing investments, you also have an awesome heat map showing the best-performing stocks of the day and which assets are faring better than others.
There are around 1800 investment opportunities on Trading 212, comprising shares in companies based in the UK, the US, and some European markets.
There are also Exchange-Traded Funds that invest in entities such as the FTSE 100 (top 100 companies in the U.K.). Crucially, however, Trading 212 does not allow you to invest in investment funds or individual corporate bonds outside an Exchange-Traded Fund, so you have slightly fewer options and, outside of a pie, slightly more risk because you are more likely to buy shares in individual companies rather than funds (what is a fund?).
That being said, the trade-off benefit is that it only requires a £1 minimum deposit and has a 0.15 per cent share trading fee (plus a 0.5 per cent currency conversion charge for overseas investments). Like Freetrade, it also supports fractional shares allowing you to purchase the more expensive shares like Google or Apple. Combined with a low platform fee, these perks make it one of the cheaper options for investing.
Summary
Millions of users — 4.3 stars, 200k+ ratings.
Easy to use and clearly laid out.
Pies make it easy to manage your investments in line with your goals.
Has auto-invest options if you want a laid-back approach.
Easy to get started — minimum investment is just £1.00.
Links
App Store — 4.5 stars, 170K+ ratings
Play Store — 4.2 stars, 120K+ ratings, 10M+ downloads
AJ Bell
AJ Bell is one of the more traditional investment platforms. What it lacks in modern-day user-friendliness, it makes up in trustworthiness and freedom of choice.
Compared to the most user-friendly apps like Dodl and Trading 212, AJ Bell's fund selection spans many financial markets and includes the likes of BlackRock and Barclays funds, along with Vanguard Index funds, giving it one of the most comprehensive selections of investment options on offer.
Right off the bat, you can buy in over 2000 UK and international funds, including a very healthy selection of environmental funds, plus popular stocks and shares, ETFs, and bonds.
To hit the ground running, you can choose from one of AJ Bell's four ready-made portfolios: cautious; balanced; adventurous; or income.
Although these portfolios have less flexibility than Trading 212's pies, they are managed by their own team specialists who have incredible investment knowledge, so this fund management is more likely to meet your goals than having an algorithm do it.
You can even use the app to make a habit of investing with "regular investments" which automatically invests at least £25.00 per month into the shares you like on your behalf. With this method, you also benefit from "pound cost averaging", which means you are likely to make more stable returns.
To open a Stocks and Shares ISA with AJ Bell, you will need to either leverage "regular investments" and pledge £25.00 per month or invest £500 as a lump sum to get started.
From then on, you can invest in whatever you like. The fees are relatively simple.
If you want to buy or sell investment funds, AJ Bell's fund costs are £1.50 per transaction.
For buying or selling individual shares there is a £9.95 charge, which is one of the higher charges among investment apps. Like Trading 212, AJ Bell's fees are trade-based, meaning that although there is no platform fee, you will have to pay a £9.95 charge on every transaction you make.
Despite these higher charges though, AJ Bell is very well-received amongst investment apps. It is one of the most highly-rated apps in the UK. It has 4.8 stars, (1000 ratings) in the App Store and 4 stars (90% positive reviews) on Trustpilot.
Summary
Comprehensive selection of funds — access to thousands of funds, stocks, ETFs and bonds.
Ability to use ready-made portfolios - four portfolios to choose from.
Regular Investments - set up automatic investments from £25.00 per month.
Simple Fees — £1.50 for investment funds; £9.95 for stocks and shares.
Well-regarded investment platform.
Charges higher fees than some rivals.
Option to automatically invest on a recurring basis.
Some complaints about customer service.
Links
App Store — 4.7 stars, 6.5K+ ratings
Play Store — 4.2 stars, 800+ ratings, 50K+ downloads
Honourable mention — Revolut
We love Revolut, but it only gets an honourable mention because the other options are better, and it is not strictly an investing app.
In fact, it is a comprehensive bank account and investment app that allows users to manage their day-to-day spending through a savings account and, at the same time, create personalised portfolios, trade stocks, and convert currencies.
The feature we're most interested in, however, is the stock trading feature.
While it doesn't come with a lot of features that a dedicated investment platform has, Revolut does a great job at making investing accessible and affordable.
So, as with all things Revolut, the key attraction is its top-notch user experience.
If you already have Revolut, you can open a Stocks and Shares ISA with a minimum deposit of just a few pounds, and you will get access to more than 1,500 stocks and funds to invest in.
Revolut knows this might be a bit overwhelming, so to help you out, they have created a "Robo-advisor" to make it easier to start investing.
It guides you through the options, asking questions about your goals, objectives, and attitude to risk. It then takes this information and creates a personalised portfolio of in-house funds, rebalancing them as the market changes.
You can even automate your investments through the app. It is all very intuitive and user-friendly.
And the best thing? It's totally commission-free.
Robo-advisor will update you about your investments, suggest new stocks for you to add to your portfolio, and inform you about any changes in the market, with no additional trading fees.
The crucial downside is that Revolut is missing the important investment options, and research and educational tools that the likes of Hargreaves Lansdown have, meaning you feel a bit on your own in your investing journey.
And it is this lack of focus on investing which means that although Revolut is an extremely user-friendly app, we do not recommend it unless you already have Revolut.
Sometimes you need a specialist tool.
Summary
Comprehensive savings account and general investment account in one place.
Wide range of stocks and funds - 1500+ stocks and funds available.
Robust user experience.
Minimum deposit of just a few pounds.
Low fees and no hidden charges.
Accessible and affordable.
No other advanced features such as portfolio management.
Links
App Store — 4.9 stars, 540K+ ratings
Play Store — 4.7 stars, 2M+ ratings, 10M+ downloads
Wildcard — eToro
eToro is one of the world's most popular investment apps with over 10 million users.
One of the unique features of eToro is its social aspect.
When you open the app, you will see a feed of your investments alongside conversations between fellow investors and updates to their portfolios. It means that if you don't know what to invest in, you can see what successful investors are buying and selling, and follow their portfolios. This can be a great way to start investing and improve the stocks you buy.
You can even go the extra mile. If you don't want to pick stocks yourself, eToro can do it for you with their "CopyTrader" feature.
With CopyTrader, you can automatically copy the moves of other investors you believe in and replicate their actions in real-time. It means you will end up with similar portfolios to some of the most successful investors, reducing risk and improving the odds of making profits.
And if that's not enticing enough, compared to Hargreaves Lansdown, on over 2000 shares there is commission-free trading and the minimum trade is just £10. And like Freetrade, you can even go with fractional shares to keep costs down even lower!
But here is the kicker. eToro does not offer a stocks and shares ISA.
In fact, it offers no ISAs at all.
This means you will need to pay tax on any gains you make from buying and selling shares (although this will depend on your personal tax rate). You will have to file your own tax return which gets unnecessarily complicated. For this reason, we don't recommend it to beginners.
Summary
Very user-friendly
Intelligent investing feature
Get started with just £1
Commission-free trading
The ability to set up a regular investment plan
eToro is a multi-asset platform which offers both investing in stocks and crypto assets, as well as trading CFDs.
Links
App Store — 3.8 stars, 7.5K+ ratings
Play Store — 3.7 stars, 120K+ ratings, 10M+ downloads
---
And there you go, the U.K.'s top 5 best investment apps for beginners.
From AJ Bell to eToro, each app offers something special and could be a great way to get started with investing. Consider your long-term goals, budget, how much you want to invest, the fees you'll need to pay and the types of investments you're interested in, and then choose the app that's right for you.
After you do choose an app, you'll probably need to open a Stocks and Shares ISA and select investments. Taking the first step and getting started can be daunting, but with this guide and a little bit of research, you can be on the path to financial freedom. So don't wait any longer - open an account and start investing today!
Write at The Fledger
Have a guide in mind?
The Fledger is open to voices from all backgrounds. Get in touch about your idea and give your words flight.
Shoot us a message